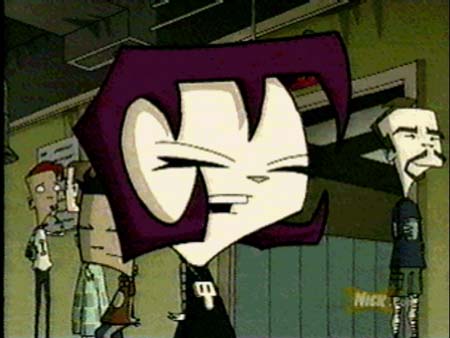 NAME: Gaz (Membrane?)
AGE: 9 or 10
RACE: Human
GRADE: 5th
HAIR COLOR: Violet
EYE COLOR: Brown
CLOTHES: Gaay striped long sleeved shirt under black tank top dress, wears a skull necklace, black shoes.
PARENTS OR FAMILY: Professor Membrane is her father and Dib is her brother.
OCCUPATION: Making Dib and ZIm's life miserable.
DREAM: ??
OTHER INFO: Gaz is VERY strong and vengeful. She will go to extreme meadures to get what she wants. She thinks Dib and Zim are annoying. She ruins a lot of their plans. She likes to be alone, at least that's how she acts. She is very tough so don't get in her way.
She likes junk food, drawing, watching TV, playing video games, and she LOVES playing her Game Slave and Game Slave 2. She is a master at all video games and knows how to pilot ships.