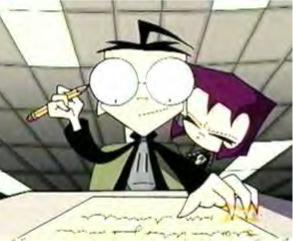 NAME: Dib
AGE: 11 or 12
RACE: Human
GRADE: 6th, but would be qualified for a higher grade
HAIR COLOR: Black
EYE COLOR: Brown (wear glasses
CLOTHES: black trenchcoat, black boots, and pants, a blue t-shirt with a not-so-happy face on it.
HEIGHT: 2'6''
PARENTS OR FAMILY: Professor Membrane is his father, Gaz is his sister.
OCCUPATION: Junior Paranormal Investigator
DREAM: To stop Zim and become a Proffessional Paranormal Investigator.
OTHER INFO:Dib is the only one to realize, before I came, to realize that Zim is an alien in Ms. Bitters class. He does NOT have a big head! He's not stupid, or crazy, and he is not a maggot! He's a brilliant, smart, clever, intelligent boy!
Of course, Dib is a huge threat to Zim's mission and almost always stops Zim. They hate each other a lot, but sometimes they have to join forces. They actually make a pretty good team.
Dib's been through a lot, chasing after Zim, risking his brain when Zim was in his body, his lungs were stolen, he's been hit by a GIANT waterballoon, battled a misformed shaped head kid, turned into balongus, met a tribe of rat people, and so much more.
His favorite show is Mysterious Mysteries and he believes in the paranormal.


KREE'S NOTE: Dib is a very nice guy, if you get to know him. Unfortantely, his classmates don't bother so he's just a loser and outcast. But he is pretty cool. He's got a nice personality, similar to mine.